... as Love does.
Okey... I just came up with that one, really. Does it make any sense to you?
I really enjoyed making the cartoons for her Love Book called "Ceritera Cinta" and if you go to her blog, you could see that this was the third one she created about her stories and views on Love. All based on her own feelings dedicated to her loved one. Awwww...
When I was first approached by Ira to draw the cartoons, I thought she might have compiled the "Love is..." from
Kim Casali,
one of my favorite cartoonists (late 1960s). But no... it was very coincidence as she has written this before she knew about Kim's famous works!
So, you see... that's how powerful LOVE is...;
you could create something really great when it truly comes from your heart :).
Keep blogging, Ira. I hope your all dreams will come true and all the best with your wedding plans and preparations.
Love is…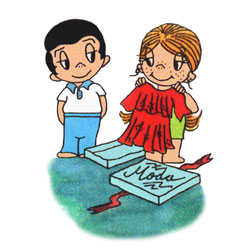 not asking how much her new dress cost.